Back to Parasitoids Table of Contents

Peristenus digoneutis Loan
(Hymenoptera: Braconidae)
by William H. Day, USDA ARS, North Atlantic Area, Beneficial Insects Introduction Research, 501 S. Chapel St., Newark, DE 19713.
Peristenus digoneutis was discovered in northern Europe by staff of the USDA European Biological Control Laboratory (Montpellier, France). There it was an effective parasitoid of Lygus rugulipennis Poppius. Because the latter insect is an ecological equivalent of Lygus lineolaris (Palisot) and L. hesperus Knight, two closely-related North American pests of many crops, and these tarnished plant bugs lack effective native parasites, P. digoneutis was released against L. lineolaris in the northeastern US by the USDA Beneficial Insects Laboratory, Newark, DE, under W. H. Day.
After considerable efforts over several years, P. digoneutis was established in northwestern New Jersey alfalfa in 1984. By 1989, it had spread to southeastern New York. It began to move up the Hudson Valley by 1993 and reached the Canadian border (Clinton County) by 1996. It has been found in ten northeastern states (CT, MA, NH, NJ, NY, PA, VT, RI, DE, OH), in three Canadian Provinces, and is still spreading. However, it is not abundant south of latitude 41 ?N (New York City), so another parasitoid species that is adapted to a warmer climate is needed there.

Appearance
P. digoneutis is a small, dark brown, 3 mm (1/8") long wasp. (See photo to right)

Habitat
Alfalfa fields, apple orchards, and strawberry fields, at present. It is hoped that further research will show that other crops attacked by tarnished plant bug provide a habitat for P. digoneutis.

Pests Attacked (Host Range)
P. digoneutis has reduced tarnished plant bug numbers in New Jersey alfalfa by 75%, and researchers in New York and New Jersey learned that it will fly into apples and strawberries and parasitize Lygus pests there. Other crops damaged by tarnished plant bug need to be studied, such as peaches, raspberries, lima and dry beans, and several seed crops.



Life Cycle
P. digoneutis overwinters as a pupa in its cocoon, in the soil, and the adult wasp emerges in June. Females inject a single egg into each tarnished plant bug nymph; it hatches in 5-7 days. The larva feeds inside the young tarnished plant bug, maturing in 7-10 days. The parasitoid then leaves the dying host and drops to the ground, where it constructs a cocoon just under the soil surface. There are two full generations and apparently a partial third per year, each synchronized with the host's major generations. An increasing proportion of each generation diapause (delay emergence from their cocoons until the following June) to carry the species through possible periods of host scarcity and the winter.

Relative Effectiveness
P. digoneutis has reduced tarnished plant bug numbers in New Jersey alfalfa by 75%, and cooperators in New York and New Hampshire are doing research to learn if it will fly into strawberries and parasitize Lygus pests there or if alfalfa must be nearby. If the parasitoid is found to disperse, other crops damaged by tarnished plant bug will be studied, such as peaches, apples, raspberries, lima and dry beans, and several seed crops.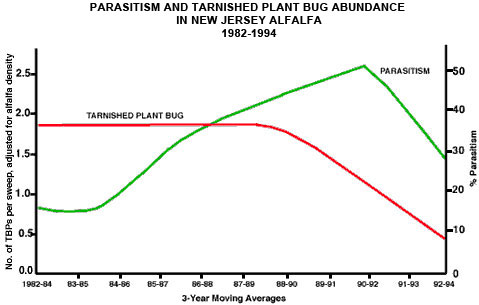 In northwestern New Jersey, parasitism rates reached 55%, and tarnished plant bug numbers in alfalfa promptly declined. Now that pest numbers have decreased by 75%, parasitism declined to about 30% (see graph). This successful biological control research should benefit agriculture in two ways – directly by reducing the slight feeding losses to alfalfa, and indirectly by reducing the number of tarnished plant bug adults which fly into valuable fruit and vegetable crops and damage them, especially when nearby alfalfa is harvested. If P. digoneutis is found to remain in perennial fruit crops like peaches and apples, even greater biological control of tarnished plant bug should be realized.

Conservation
P. digoneutis persists well in alfalfa fields, despite 3-4 harvests per year. If it is found to be effective in other crops, conservation methods will be developed, if necessary.
For general information about conservation of natural enemies, see Conservation in the Tutorial section on this site, or the Volume II, No. 1 Feature Article on conservation in the Midwest Biological Control News Online.

Pesticide Susceptibility
P. digoneutis is seldom exposed to insecticides in alfalfa because all major pests of this crop in the northeastern US but one (potato leafhopper) are already under biological controls developed by the Newark laboratory. It is likely that both Lygus and its parasite numbers are low in crops that are regularly treated with insecticides.

Commercial Availability
It is very difficult to rear P. digoneutis, so commercial availability of this parasitoid is unlikely. However, it is dispersing westward naturally, so most suitable areas will eventually have self-sustaining, natural populations of this parasitoid.

Back to Parasitoids Table of Contents